Police seek information in destruction of Theta Pond sculpture
Thursday, November 12, 2020
The Oklahoma State University Police Department and university officials are asking for information regarding the destruction of a beloved wooden sculpture at Theta Pond. The image of a young boy fishing was carved by artist Clayton Coss several years ago after lightning destroyed a tree. The damage, which can't be repaired, was reported Wednesday morning.

Steve Dobbs, director of Landscape Services, said the sculpture suffered limited damage around Sept. 28. The fishing pole was missing and one of the legs was also broken.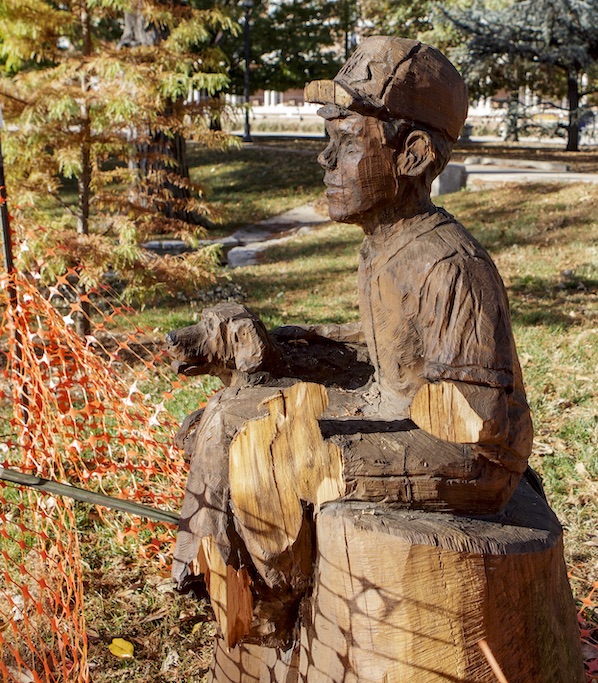 "We thought maybe a young person was climbing on it and took the pole," Dobbs said. "We reached out to our artist. We had saved some wood from that tree, and he felt confident he could repair it. He was scheduled to come out next week."

A landscaping crew in the area noticed new and much more devastating damage Wednesday morning. The bill of the cap was knocked off with a blunt object. The cap and face are believed to have been battered and chipped with an edged blade. The left leg, which had previously been reattached with screws, was broken off. The leg and other broken pieces were not located in the area.

"We are beside ourselves trying to understand why someone would do this," Dobbs said. "The piece had become part of our history and culture. It was a favorite stop on the new student tours."

The sculpture cost just shy of $5,000 when it was created in 2016, paid for by donor contributions to the Campus Beautification Fund. Based on the monetary value of the piece, the crime is a felony.

Anyone with information is asked to contact the OSU police department at 405-744-6523. Students, faculty and staff can also submit a tip using the Rave Guardian app.